This web app uses cookies to compile statistic information of our users visits. By continuing to browse the site you are agreeing to our use of cookies. If you wish you may change your preference or read about cookies
close
Why Indian Oil's Business Model is so successful?
Get all the answers
---
Indian Oil's Company Overview
---
Indian Oil Corporation (IndianOil) is India's largest commercial enterprise. IndianOil is ranked 161st among the world's largest corporates (and first among Indian enterprises) in the prestigious Fortune 'Global 500' listing for the year 2016. As India's flagship national oil company, with a 33.000-strong work-force currently, IndianOil has been meeting India's energy demands for over half a century.
https://www.iocl.com
Country: New Delhi
Foundations date: 1959
Type: State-owned
Sector: Energy & Utilities
Categories: O&G
---
Indian Oil's Customer Needs
---
Social impact:
Life changing: affiliation/belonging
Emotional: provides access, badge value
Functional: integrates, avoids hassles, quality, connects
---
Indian Oil's Related Competitors
---
---
Indian Oil's Business Operations
---
Cross-selling:
Cross-selling is a business strategy in which additional services or goods are offered to the primary offering to attract new consumers and retain existing ones. Numerous businesses are increasingly diversifying their product lines with items that have little resemblance to their primary offerings. Walmart is one such example; they used to offer everything but food. They want their stores to function as one-stop shops. Thus, companies mitigate their reliance on particular items and increase overall sustainability by providing other goods and services.
Credits:
A credit arrangement is when a consumer purchases items on credit (without paying cash) and spends the provider later. Typically, trade credit is extended for a certain number of days after the products are delivered. These credits may be deducted from one's tax liability.
Archetypes of business model design:
The business model archetypes include many business personalities and more than one business model linked to various goods or services. There is a common foundation behind the scenes of each unit, but from a management standpoint, each group may operate independently.
Customer loyalty:
Customer loyalty is a very successful business strategy. It entails giving consumers value that extends beyond the product or service itself. It is often provided through incentive-based programs such as member discounts, coupons, birthday discounts, and points. Today, most businesses have some kind of incentive-based programs, such as American Airlines, which rewards customers with points for each trip they take with them.
Decomposition:
Simplifying many product kinds inside a product group or set of goods. A technique for doing business analysis in which a complex business process is dissected to reveal its constituent parts. Functional decomposition is a technique that may be used to contribute to an understanding and management of large and complicated processes and assist in issue solving. Additionally, functional decomposition is utilized in computer engineering to aid in the creation of software.
Best in class services:
When a firm brings a product to market, it must first create a compelling product and then field a workforce capable of manufacturing it at a competitive price. Neither task is simple to perform effectively; much managerial effort and scholarly study have been dedicated to these issues. Nevertheless, providing a service involves another aspect: managing clients, who are consumers of the service and may also contribute to its creation.
Brands consortium:
A collection of brands that coexist under the auspices of a parent business. The businesses in this pattern develop, produce, and market equipment. Their strength is in copywriting. Occasionally used to refer to a short-term agreement in which many companies (from the same or other industrial sectors or countries) combine their financial and personnel resources to execute a significant project benefiting all group members.
Digital:
A digital strategy is a strategic management and a business reaction or solution to a digital issue, which is often best handled as part of a broader company plan. A digital strategy is frequently defined by the application of new technologies to existing business activities and a focus on enabling new digital skills for their company (such as those formed by the Information Age and frequently as a result of advances in digital technologies such as computers, data, telecommunication services, and the World wide web, to name a few).
Cross-subsidiary:
When products and goods and products and services are integrated, they form a subsidiary side and a money side, maximizing the overall revenue impact. A subsidiary is a firm owned entirely or in part by another business, referred to as the parent company or holding company. A parent company with subsidiaries is a kind of conglomerate, a corporation that consists of several distinct companies; sometimes, the national or worldwide dispersion of the offices necessitates the establishment of subsidiaries.
Demand then made:
Early applications in distribution, production, and buying combined to form the supply chain. However, due to investments in information technology, cost analysis, and process analysis, traditional supply networks have been converted into quicker, cheaper, and more dependable contemporary supply chains. The second side of the value chain is marketing, sales, and service, which generate and maintain demand and are referred to as the market then made.
Digital transformation:
Digitalization is the systematic and accelerated transformation of company operations, processes, skills, and models to fully exploit the changes and possibilities brought about by digital technology and its effect on society. Digital transformation is a journey with many interconnected intermediate objectives, with the ultimate aim of continuous enhancement of processes, divisions, and the business ecosystem in a hyperconnected age. Therefore, establishing the appropriate bridges for the trip is critical to success.
Direct selling:
Direct selling refers to a situation in which a company's goods are immediately accessible from the manufacturer or service provider rather than via intermediate channels. The business avoids the retail margin and any extra expenses connected with the intermediaries in this manner. These savings may be passed on to the client, establishing a consistent sales experience. Furthermore, such intimate touch may help to strengthen client connections. Finally, direct selling benefits consumers by providing convenience and service, such as personal demonstrations and explanations of goods, home delivery, and substantial satisfaction guarantees.
Integrator:
A systems integrator is an individual or business specializing in integrating component subsystems into a unified whole and ensuring that those subsystems work correctly together. A process is known as system integration. Gains in efficiency, economies of scope, and less reliance on suppliers result in cost reductions and may improve the stability of value generation.
Regular replacement:
It includes items that must be replaced on a regular basis; the user cannot reuse them. Consumables are products utilized by people and companies and must be returned regularly due to wear and tear or depletion. Additionally, they may be described as components of a final product consumed or irreversibly changed throughout the production process, including semiconductor wafers and basic chemicals.
Performance-based contracting:
Performance-based contracting (PBC), sometimes referred to as performance-based logistics (PBL) or performance-based acquisition, is a method for achieving quantifiable supplier performance. A PBC strategy focuses on developing strategic performance measures and the direct correlation of contract payment to success against these criteria. Availability, dependability, maintainability, supportability, and total cost of ownership are all standard criteria. This is accomplished mainly via incentive-based, long-term contracts with precise and quantifiable operational performance targets set by the client and agreed upon by contractual parties.
Guaranteed availability:
Guaranteed availability is a property of a business system that attempts to maintain an agreed-upon level of operational performance, often uptime, for a longer time than is typical. The idea is often linked with terms such as high availability and catastrophe recovery.
Mobile first behavior:
It is intended to mean that as a company thinks about its website or its other digital means of communications, it should be thinking critically about the mobile experience and how customers and employees will interact with it from their many devices. The term is "mobile first," and it is intended to mean that as a company thinks about its website or its other digital means of communications, it should be thinking critically about the mobile experience and how customers and employees will interact with it from their many devices.
From push to pull:
In business, a push-pull system refers to the flow of a product or information between two parties. Customers pull the products or information they need on markets, while offerers or suppliers push them toward them. In logistics and supply chains, stages often operate in both push and pull modes. For example, push production is forecasted demand, while pull production is actual or consumer demand. The push-pull border or decoupling point is the contact between these phases. Wal-Mart is a case of a company that employs a push vs. a pull approach.
Lean Start-up:
The Lean Start-up methodology is a scientific approach to developing and managing businesses that focuses on getting the desired product into consumers' hands as quickly as possible. The Lean Startup method coaches you on how to guide a startup?when to turn, when to persevere?and how to build a company with maximum acceleration. It is a guiding philosophy for new product development.
Dynamic pricing:
This pattern allows the business to adjust its rates in response to national or regional trends. Dynamic pricing is a pricing technique known as surge pricing, demand pricing, or time-based pricing. In which companies establish variable prices for their goods or services in response to changing market conditions. Companies may adjust their rates based on algorithms that consider rival pricing, supply and demand, and other market variables. Dynamic pricing is widely used in various sectors, including hospitality, travel, entertainment, retail, energy, and public transportation.
Self-service:
A retail business model in which consumers self-serve the goods they want to buy. Self-service business concepts include self-service food buffets, self-service petrol stations, and self-service markets. Self-service is available through phone, online, and email to automate customer support interactions. Self-service Software and self-service applications (for example, online banking apps, shopping portals, and self-service check-in at airports) are becoming more prevalent.
Make and distribute:
In this arrangement, the producer creates the product and distributes it to distributors, who oversee the goods' ongoing management in the market.
Technology trends:
New technologies that are now being created or produced in the next five to ten years will significantly change the economic and social landscape. These include but are not limited to information technology, wireless data transmission, human-machine connection, on-demand printing, biotechnology, and sophisticated robotics.
Energy:
Energy development is an area of study concerned with adequate primary and secondary energy sources to satisfy society's requirements. These activities include those that promote the development of conventional, alternative, and renewable energy sources and the recovery and recycling of energy that otherwise would have been squandered.
Knowledge and time:
It performs qualitative and quantitative analysis to determine the effectiveness of management choices in the public and private sectors. Widely regarded as the world's most renowned management consulting firm. Descriptive knowledge, also called declarative knowledge or propositional knowledge, is a subset of information represented in declarative sentences or indicative propositions by definition. This differentiates specific knowledge from what is usually referred to as know-how or procedural knowledge, as well as knowledge of or acquaintance knowledge.
Lock-in:
The lock-in strategy?in which a business locks in consumers by imposing a high barrier to transferring to a competitor?has acquired new traction with New Economy firms during the last decade.
Solution provider:
A solution provider consolidates all goods and services in a particular domain into a single point of contact. As a result, the client is supplied with a unique know-how to improve efficiency and performance. As a Solution Provider, a business may avoid revenue loss by broadening the scope of the service it offers, which adds value to the product. Additionally, close client interaction enables a better understanding of the customer's habits and requirements, enhancing goods and services.
Supply chain:
A supply chain is a network of companies, people, activities, data, and resources that facilitate the movement of goods and services from supplier to consumer. The supply chain processes natural resources, raw materials, and components into a completed product supplied to the ultimate consumer. In addition, used goods may re-enter the distribution network at any point where residual value is recyclable in advanced supply chain systems. Thus, value chains are connected through supply chains.
Recommended companies based on your search:

Petróleos Mexicanos, is the Mexican state-owned petroleum company, created in 1938 by nationalization or exp...

PTT Public Company Limited or simply PTT is a Thai state-owned SET-listed oil and gas company. Formerly known...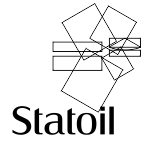 Statoil ASA, is a Norwegian multinational oil and gas company headquartered in Stavanger, Norway. It is a ful...
You rock! Thank you for your interest.
Before starting the canvas download, we would like to ask you to pay with a tweet.
x
Before downloading the canvas, we would like to invite you to our newsletter, from time-to-time we will send you curated content about business strategy