This web app uses cookies to compile statistic information of our users visits. By continuing to browse the site you are agreeing to our use of cookies. If you wish you may change your preference or read about cookies
close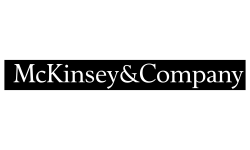 McKinsey & Company is a global management consulting firm that serves leading businesses, governments, non-governmental organizations, and not-for-profits. They help our clients make lasting improvements to their performance and realize their most important goals. Over nearly a century, they've built a firm uniquely equipped to this task.
Visit website
Average rate:
3.5
Number of votes:
1099
Digital maturity:
Fashionista
Create better business strategies
using business model data
Vizo is a platform that searches, analyzes and visualizes the world's collective business model intelligence to help answer strategic questions, it combines the simplicity of business model canvas with the innovation power of mash-up method.
Start free trial
You rock! Thank you for your interest.
Before starting the canvas download, we would like to ask you to pay with a tweet.
x
Before downloading the canvas, we would like to invite you to our newsletter, from time-to-time we will send you curated content about business strategy